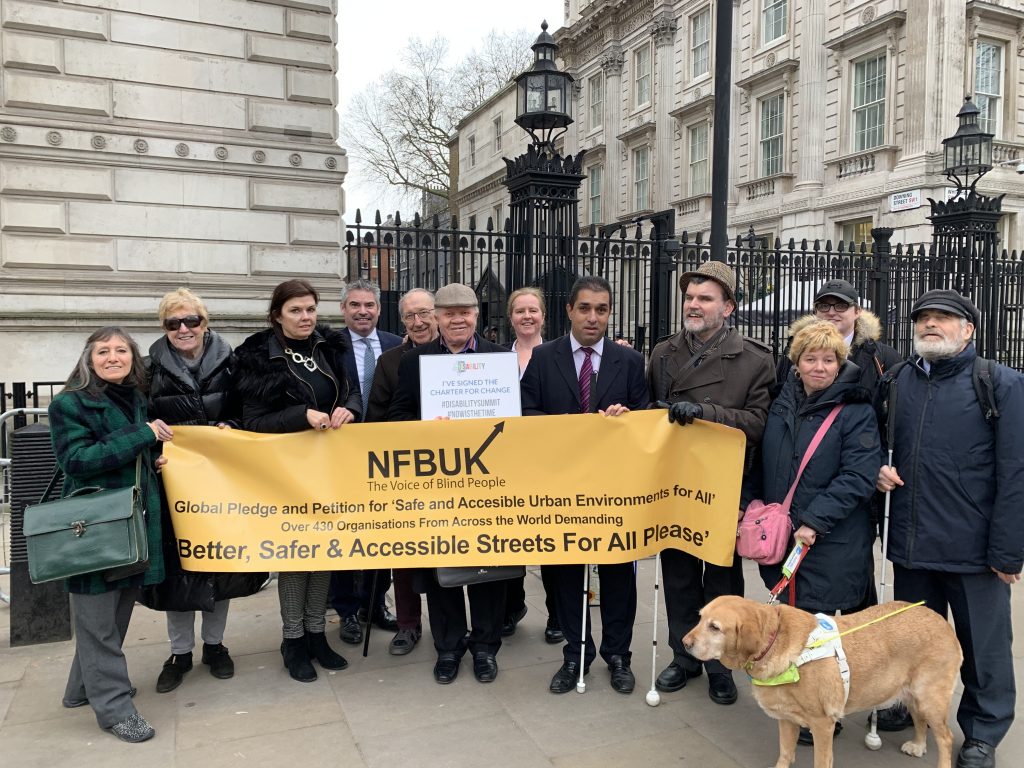 Campaigners argue shared spaces pose danger to blind and partially sighted people, reports James Cracknell
Campaigners against 'shared space' cycling schemes in Enfield have again petitioned the government, taking their message to the door of 10 Downing Street.
Members from the National Federation of the Blind UK (NFBUK) and Enfield Town Residents Association (ETRA) travelled to Westminster last month, having previously submitted similar petitions last year before Boris Johnson became prime minister.
Andrew Hodgson, NFBUK president, has spent the past decade raising concerns about shared-space cycling schemes which he says have adversely affected many blind, partially-sighted, disabled and vulnerable pedestrians. He said: "We do not want to share space with moving vehicles on the road and with cyclists on the pavement or when trying to get on and off the bus.
"We simply want our pavements back, our green-man pedestrian crossings back, and we want direct access to public transport back. We want to be able to walk in safety and we want to reclaim our pavements."
NFBUK claims many shared-space schemes, such as those installed by Enfield Council along the A105 between Palmers Green and Enfield Town, have failed to include accessible features that allow blind and partially-sighted people to use them safely and independently.
In 2018 the government wrote to local authorities in England asking for shared space cycling schemes to be "paused" amid concerns from disability groups, but this guidance came after the council's Green Lanes cycling scheme had already been installed.
NFBUK now wants existing schemes to undergo "urgent remediation". Its petition is supported by 200 UK organisations – including ETRA, Enfield Transport User Group and Enfield Vision.
Another petition, focusing on problems in Enfield, was submitted to 10 Downing Street by ETRA members, including association chair Linda Miller and partially-sighted residents Gilly Ostacchini and June Weenen.
Linda said: "We are petitioning the prime minister, alongside NFBUK. Our petition sets out evidence of the dangers many of these new road layouts present for blind, disabled and vulnerable people – people who should by rights be protected by the Equality Act. None of these situations could have occurred if planners and funders had been properly held to account."
A council spokesperson said: "Enfield Council is fully committed to equality in everything we do, which includes the delivery of our healthy streets projects. We welcome constructive dialogue with key stakeholders and Enfield Council officers met with both Enfield Disability Action and Enfield Vision, among others, towards the end of 2019. We will continue these conversations as projects are developed. Enfield Council has no existing schemes or future proposals where motor vehicles and pedestrians use shared space.
"Enfield Town Residents Association is one of many community groups that is a member of the new Enfield Town Consultative Group. This group was formed by Enfield Council last year to help build constructive relationships. Our wide-ranging community engagement work for the project in Enfield Town has shown that creating accessible environments is a priority for many people. We are committed to delivering this through our work to design healthy streets that are fit for the future."