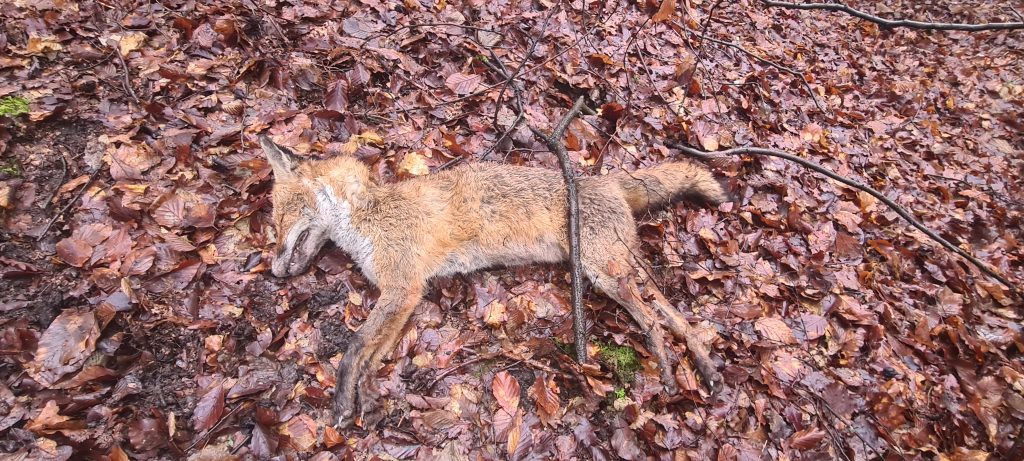 Several found dead at Whitewebbs as park users suspect foul play, reports James Cracknell
Mystery surrounds the deaths of a number of foxes in an Enfield park.
The bodies of several dead foxes were found in Whitewebbs Park last autumn but concern from park users began to escalate at the start of the year when one fox was found shot dead on the park's golf course. The sounds of gunfire have been heard on several different occasions.
While some of the dead foxes have been found with bullet wounds, many others have no discernible injuries, suggesting they could have been poisoned instead.
One park user reported seeing a man in "gamekeeper" attire roaming through Archers Wood, which is between Whitewebbs Park Golf Course and Tottenham Hotspur Training Centre. Another said that it "sounds like someone is hunting in there".
It is illegal to kill foxes inhumanely and the matter has been reported to the Metropolitan Police's wildlife crime division.
The park, golf course and woodland is all owned and managed by Enfield Council. A spokesperson confirmed the local authority was aware of concerns around the welfare of foxes in Whitewebbs and that officers had helped to clear one dead fox from the park, but declined to comment on what might be causing the problem.
Local resident Sean Wilkinson wrote a letter to councillors highlighting his concerns and said: "I and others are very concerned about the possibility that foxes are being killed in the area of the green belt that includes Whitewebbs Park. There is one known case of a fox being shot and injured and subsequently being found dead on the golf course. I saw the animal myself.
"Other foxes have been found dead without sign of injury. Many of us have heard the sound of shotguns being fired, mostly to the north-east of Beggars Hollow.
"The council is a proud proponent of biodiversity in Enfield and while foxes are not universally popular with farmers they, as native mammals, have as much a part to play in the biodiversity of the green belt of Enfield as any other animal."
Chase ward councillor Hass Yusuf has been assisting park users in looking into the issue but told the Dispatch he was no closer to finding out what had caused so many foxes to die in the area. "There is no wilful killing of foxes in the park [by the council]," said Cllr Yusuf.
"The use of firearms has not been permitted in the area, but someone in a gamekeeper outfit has been spotted. Obviously it is against council policy to be killing wildlife and there is no reason they would be doing it.
"It could be anyone going around shooting these foxes. It's not good."
A spokesperson for Tottenham Hotspur FC said the club was not involved in controlling foxes in or around its training centre.