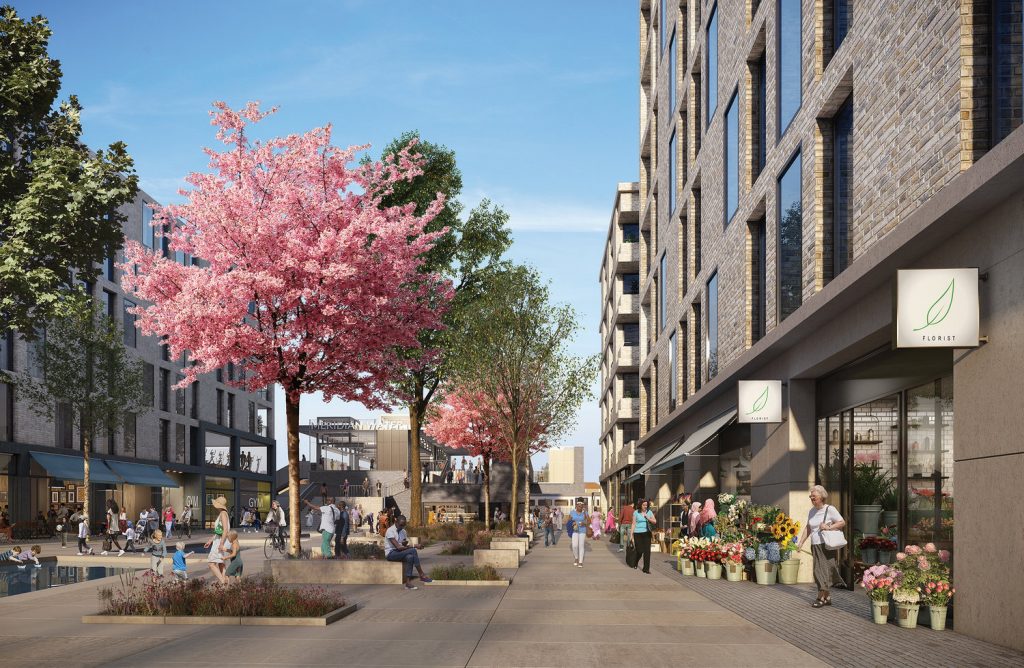 Enfield Council promises more 'affordable' homes at Meridian Water but questions are raised over how cheap they will be, reports James Cracknell
New data on the affordability of housing suggests Enfield residents on the lowest incomes are able to rent just one in 50 homes available on the open market.
Research by Bureau Local, a project supporting local investigative journalism, revealed that of 1,548 homes available to rent on a single day in Enfield and neighbouring areas, just 31 – or 2% – were deemed to be affordable to people claiming housing benefit in the borough. With many estate agents also refusing to let to benefit claimants, it shows the difficulty Enfield Council is facing in its attempts to tackle the housing crisis.
The news comes as the council prepares to sign off on its first major deal for new homes at its Meridian Water redevelopment project in Edmonton, with more 'affordable' housing now being promised. Developer Galliford Try Partnerships has agreed to sell not more than half of the new homes on the open market at 'Meridian One' – a key part of the first phase of the promised 10,000 homes due to be built over the next 20 years.
However, the deal is being called into question by some councillors concerned that even the cheapest housing won't be affordable to the poorest people in the borough. Charith Gunawardena, a Labour councillor in Southgate, said it was unclear how Meridian One would help reduce the borough's housing waiting list and high numbers of people in temporary accommodation.
Cllr Gunawardena told the Dispatch: "More than half of households in the borough have a total income of less than £34,000 per year – this is very low when you consider the average house price is £400,000.
"There are a whole host of housing issues in Enfield – temporary accommodation, overcrowding, low-quality housing, rent-led debt – and Meridian Water is a fantastic opportunity to tackle these problems. But without a precise strategy, showing how it will impact these issues, you are building housing that mostly benefits the few."
While Cllr Gunawardena blames the current government for exacerbating housing problems in Enfield, including a recent decision to increase the borrowing rate of the Public Works Loan Board, he says the council should be doing more with development schemes on its own property, such as at Meridian Water where the local authority has spent £157million purchasing land.
"At Meridian One the level of 'affordable' housing has been increased, but it is not in context with local incomes. What is the point in building so many private homes on public land? The council could decide to build the homes itself and keep hold of its public assets, instead of giving them away."
Another Labour councillor, Tolga Aramaz, has gone further in suggesting that all homes built at Meridian Water should be for social rent, the cheapest type of housing. Cllr Aramaz, who is part of new campaign group Meridian for Council Homes, points out that the lowest rents at Meridian One will still be 70% more expensive than social homes in Enfield.
Alan Sitkin, a former Labour councillor who was the lead cabinet member for Meridian Water prior to the 2018 local election, says it is crucial for the council to be "tough" when negotiating with developers such as Galliford Try. "The devil is in the detail," he told the Dispatch. "They should be trying to offer more affordable housing – but you can't do it if you're not an experienced negotiator."
Council leader Nesil Caliskan defended the Meridian One deal, which includes a number of additional spending pledges for Edmonton. She said: "Builders will be on site before Christmas, which demonstrates that delivery is being accelerated.
"Enfield Council's priority since taking back control of Meridian Water has been to ensure it benefits local people and helps tackle the housing crisis. While always ensuring council finances are safeguarded, we make no apologies for putting local people before profit.
"We want Meridian Water to be an extension of the community and we are confident that phase one will benefit local people first and foremost – £200,000 will be spent in the upper Edmonton area on safety and cleaning and I am also pleased that the development agreement includes provision of a skills academy, to amplify opportunities for residents on the doorstep of Meridian Water."
Conservative councillors, meanwhile, say that the level of affordable housing at Meridian Water is too high and risks putting the council deeper into debt.
The Meridian One scheme, for up to 910 homes, includes:
50% available on the open market, with a three-bed home likely to cost at least £340 per week to rent;
25% available at 'London Affordable Rent' levels, with a three-bed home costing £173.37 per week;
25% available to buy as 'shared ownership' homes, discounted from the market rate but subject to minimum income requirements.
Did you enjoy reading this article? Enfield Dispatch is published by Social Spider, a not-for-profit company. Please consider supporting us either by making a donation or by signing up as a member.