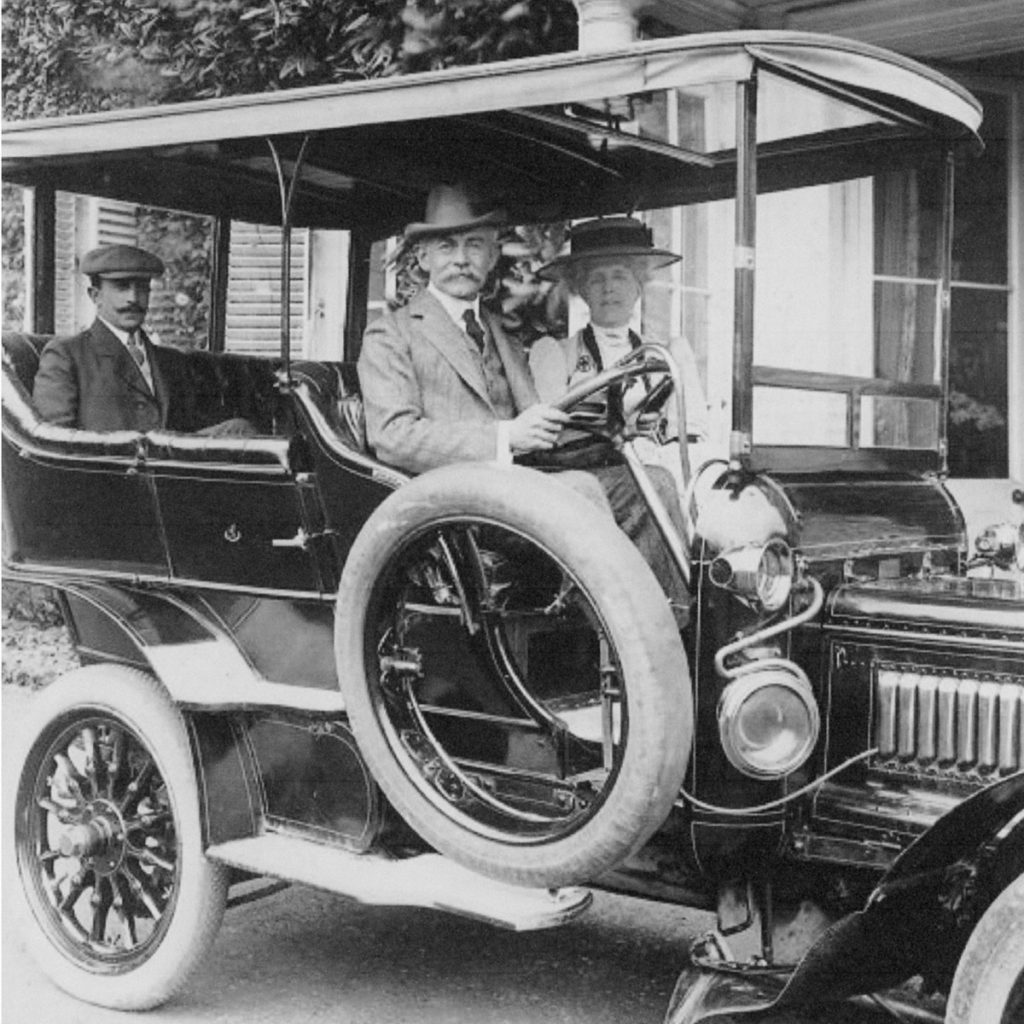 Gary Boudier recounts the life and times of an Enfield legend, including his connection to the current royal family
Born in 1858, Sir Henry Ferryman Bowles was the eldest son of Henry Carrington Bowles Bowles of Myddleton House, Bulls Cross, who was for many years the governor of the New River Company.
Young Henry was educated at Harrow, then Jesus College Cambridge. At age 23 he received his bachelor of arts degree and aged 26 became a master of arts.
Carrington Bowles purchased Forty Hall in 1894 and the following year Sir Henry, his wife Florence and daughter Wilma, moved into the hall. During their time they renovated, modernised, altered the main staircase and installed electricity.
During his lifetime Henry became more and more involved in politics, being elected as a Conservative MP, as well as becoming embroiled in local activities, so much so that he purchased the Enfield Gazette newspaper. He was also a very active member of the Freemasons and even led a long legal career as a justice of the peace (JP).
After joining the army's reserve forces, Henry received his first commission as a second lieutenant and, in 1879, was part of the Kings Own Royal Tower Hamlets Militia. He also had the same rank in the 7th Battalion Rifle Brigade (The Prince Consort's Own).
He became a captain in 1882, followed by major and second-in-command. By 1900, Henry was lieutenant colonel for the 1st Volunteer Battalion DCO Middlesex Regiment. During the First World War he was the county commandant for volunteer units in Middlesex, before retiring from military service in 1918 at the end of the conflict – with rank of colonel.
While he was still been active in the military, Henry made his move into politics. As a Conservative he won the Enfield seat in parliament on 1st April 1889. The same year, he became one of the first councillors for the newly-formed Middlesex County Council. He retired from Westminster politics in 1922, after winning five elections (as well as losing once, in 1906, before regaining the seat in 1918).
From then on Henry became more active in local associations. He became heavily involved with an organisation that was seeking to conserve Enfield's heritage and in 1936 became one of the first members of the council on Enfield Preservation Society.
Henry also had a successful legal career. As a JP he became chair of the bench for Enfield Magistrates' Court. He was a JP for 54 years in total and was also chair of the Edmonton Petty Sessional Division for 21 years. In 1918 he was appointed as deputy lieutenant for the County of Middlesex, and later served as Lord High Sheriff of Middlesex in 1928, before retiring from the bench in 1936.
In 1926 Henry had been conferred a baronetcy from the king in recognition of his political and local affairs. Remarkably, during my research I found that Henry had held office in at least 30 organisations in Enfield and London, including as fellow for The Royal Society of Arts, London Zoo and The Royal Horticultural Society. He was in several masonic lodges and chapters of the Freemasons, including a past master of the Bard of Avon Lodge which, during 1925, installed the Duke of York, later King George VI, as its worshipful master.
Henry took control of the Gazette in 1893 when a new group titled Meyers, Brook and Co Ltd was established. The new company moved into Lancaster Hall in Silver Street. Over the forthcoming years the paper had numerous ups and downs, but the mainstay during all this was the main shareholder, Henry. With wife Lady Florence, he often laid on garden parties at Forty Hall and excursions to the coast, and stayed with the paper until his death.
Lady Florence, who had been heavily involved with the newly-established girl guide movement, died in 1935. In her obituary it was noted that she would be "deeply mourned" by the residents of Enfield.
Sir Henry died on 14th October 1943 and, although it was war-time, over 700 people attended both St Andrew's Church for the ceremony and later Jesus Church, Forty Hill, where he was interred alongside Lady Florence. The family vault can be seen just inside the entrance.
The couple's only daughter, Wilma Mary Garnault Bowles, married Eustace Parker in 1913. The additional surname of Bowles was later added by royal licence, thus starting the famous family name of Parker Bowles. The couple had one son, Derek Parker Bowles, who married Ann De Trafford, and their son Andrew Henry Parker Bowles was born in 1939. Andrew married Camilla Rosemary Shand in 1973, who eventually divorced and married the heir to the throne, Prince Charles, in 2005.
Derek Parker Bowles inherited Forty Hall in 1943 and lived there until 1951, when the property was eventually sold to Enfield Council and became a local museum, and the estate became a public park.