James Cracknell meets the people behind Enfield's burgeoning craft beer industry
Craft beer has been one of London's big economic success stories over recent years, with several brands now calling Enfield home.
On the borough's industrious east side, breweries both large and small sit alongside distribution warehouses, building yards and recycling centres. Some are locally owned and have been rooted in Enfield since they began, while others have moved from elsewhere as they seek space to grow.
Camden Town Brewery started under railway arches in 2010, but after gaining a big following looked to Enfield for space to build a much larger facility. Camden Town's brewery in Ponders End, on the banks of the River Lea, opened in 2017. Beavertown Brewery – makers of craft beer favourites Neck Oil and Gamma Ray – is the latest to arrive in the borough. Now part-owned by Heineken, the company will soon open its new £40m facility in Brimsdown, providing 150 jobs.
While both these breweries are unrecognisable from their origins as small-scale independent businesses, Enfield is also home to craft beer producers that have retained their unique character.
Beerblefish Brewing Companyoperates from Georgiou Business Park in Edmonton. Established in 2015 by James and Bethany Atherton, it produces a range of award-winning heritage beers based on old recipes, such as 1892 IPA and 1920 Porter, as well as more contemporary offerings such as the fruity Pan-Galactic Pale Ale and "wine like" Cashmere Brut IPA. They've also recently produced their own gin flavoured with wild hops grown in Walthamstow.
James and Bethany still work their day jobs in the City, so most brewing is left in the capable hands of Glenn Heinzel. Showing the Dispatch around the modestly-sized brewery, Glenn said: "We have got a solid base and are looking to grow from here – in 14 months our lease runs out and we need to move somewhere bigger. We would love to stay in the area.
"At the moment our core focus is the independent market. One of our best customers is Little Green Dragon [in Winchmore Hill]. We also sell to Holtwhites Bakery [in Enfield Chase]. We are happy to look at other opportunities but we want to support the people who support us – micro-pubs, independent shops."
The Beerblefish slogan is "brewed for good" – evidenced by its products all being vegan-friendly and by the support the company has provided for charities such as Crisis, supplying beers at fundraising events. Every last Saturday of the month, Beerblefish opens up its Edmonton brewery for local people to enjoy a glass or three. "It's a nice little community," says Glenn.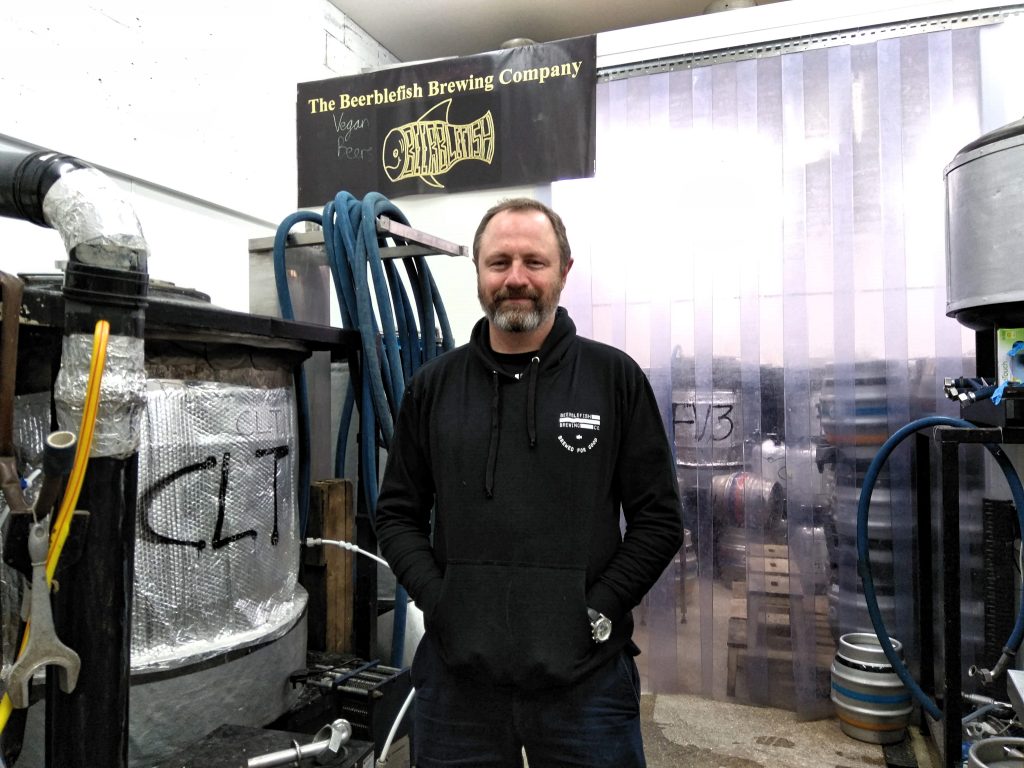 A short walk away is another craft beer company, famous for being the only brewery inside the M25 to source water from its own bore hole. Enfield Brewery looks huge from the outside, but is currently only operating at 15% of capacity. Owner Rahul Mulchandani's family run an adjacent cash-and-carry business, and he spent many years buying in craft beers before deciding to set up his own firm in 2014.
"I noticed a lot of brewers were having issues with packaging," Rahul told the Dispatch. "They were sending their beers up to Cumbria to be bottled but they were picking up bugs and being left on hot lorries. We initially wanted to set up a bottling business, but one company came to us and said we needed to be brewing as well to make it work."
Under the brand 'Enefeld' – inspired by Enfield's Anglo-Saxon spelling – the brewery produces a 'London' range of beers that includes a pale ale, IPA, pilsner and porter. After initially struggling to create the high-end product he was aiming for, Rahul hired one of the world's most experienced brewers to help boost Enefeld's reputation.
"Don [Burgess] was travelling the world as a beer judge. We told him we were having an issue with quality and consistency – he decided to come here as a consultant for a bit and then decided to stay because he enjoyed it so much."
As head brewer, Don added to the brewery's range, resurrecting a recipe he initially developed some 40 years earlier to create Enefeld's popular Speculation Ale. All its beers were soon getting better reviews online and now the firm is supplying dozens of upmarket restaurants, in places such as Mayfair. "We haven't got a budget for advertising and we rely on word of mouth," says Rahul. "Our main drinkers are people who want a beer to unwind. We don't have a cult following – but I'm proud of our product."
Rahul hints at a new "exciting" beer now in development, but adds: "I'm not allowed to talk about it."
Find out more about Beerblefish:
Visit beerblefish.co.uk
Find out more about Enefeld:
Visit enefeld.com
Did you enjoy reading this article? Enfield Dispatch is published by Social Spider, a not-for-profit company. Please consider supporting us either by making a donation or by signing up as a member.